[N/481/6/0560] [8/19] [MQA/FA4984]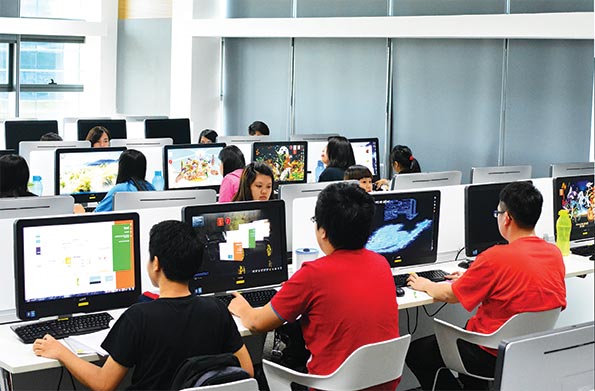 Programme Aims
To produce software engineers capable of fulfilling the professional demands in highly competitive global market with confidence, outstanding ethical and moral values.
Programme Educational Objectives (PEOs)
Graduates with good level of knowledge and competency skills will be employed or self-employed in relevant software engineering fields; and with appropriate attitudes will enable them to have successful careers.
Graduates will acquire abilities for effective communication, collaborative working in diverse teams, and continual development through professional involvement.
Graduates will pursue lifelong learning in order to contribute to the advancement of information technology and computer science professions and related contemporary issues.
Programme Learning Outcomes (PLOs)
Upon completion of this programme, students should be able:
Apply knowledge and understanding of essential facts, concepts, principles, skills, and theories relating to Software Engineering, and
Apply theoretical principles of Software Engineering in relevant areas, and
Demonstrate appropriate methodologies, models, techniques that provide a basis for analysis, design, development, test and implementation, evaluation, maintenance, and documentation of a large-scale software system, and
Use relevant techniques and demonstrate analytical and critical thinking skills in problem solving, and
Conduct professional and ethical responsibilities in accordance with ethical and legal principles, and
Function effectively both as individuals and in a group in the capacity of a leader or a team member, and
Apply broad business and real world perspectives daily and demonstrate entrepreneurship skills related to software engineering practice, and
Communicate effectively with the software system development community and with the society at large, and
Apply skills and principles of lifelong learning in both academic and career development.
Programme Structure and Synopsis
Entry Requirements
Pass Matriculation/Pre-U/Foundation from recognized institutions with minimum CGPA 2.0 and a credit in Additional Mathematics OR Mathematics and one of the subjects in Science/Technology/Engineering at SPM level; or
Pass STPM/A-level with Grade C (GP 2.0) in any two (2) subjects and a credit in Additional Mathematics OR Mathematics and one of the subjects in Science/Technology/Engineering at SPM level; or
Pass STPM in Science Stream with a minimum Grade C (GP 2.0) in a Mathematics subject and a Science/ICT subject; or
*Diploma (Computer Science/Software Engineering/Information Technology/Information Systems) or equivalent with a minimum CGPA 2.5; or
*Diploma in Science and Technology with minimum CGPA of 2.5.
Pass UEC with a minimum Grade B in 5 subjects including a Mathematics subject that is equivalent to the Additional Mathematics at SPM level; or
Other equivalent qualifications recognized by the Malaysian Government.
*Candidates with CGPA below 2.5 but above 2.0 may be admitted subject to a rigorous internal assessment process.
Note: The entry qualifications listed above are subject to change as approved by the Senate, Malaysian Qualification Agency (MQA) and Ministry of Higher Education.
Tuition Fees (subject to change)
Click here to view the tuition fees.
​Study loans are available from PTPTN and MARA.  The tuition fees above are only applicable to local / Malaysian students. For more details and information, please contact our Marketing Office at (+6) 084-367300 or email to enquiry@uts.edu.my.